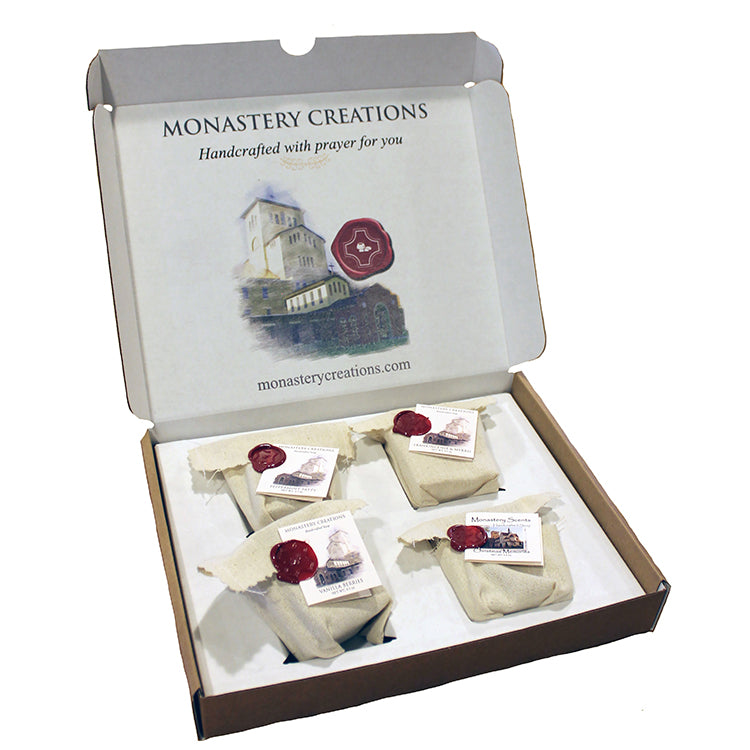 This uniquely packaged gift box contains 4 bars of your choice. A lovely photo of our monastery graces the inside of the box, reminding the recipient that they are being held in prayer. In the chronicles of our early history, an 1882 entry reads, "The Sisters made their own candles and soap."

Many years ago the sisters made soap because they needed it. In recent years the sisters have re-discovered the value and joy of hand-made fragrance soap, using modern techniques but with the same careful attention to detail that they use in all their hand-made items of pottery, weaving, and sewing that they have crafted for years. Work and prayer go hand in hand in our daily life. Each bar of soap is carefully blended, individually cut, placed in a cloth bag and sealed with our monastery's wax logo.
Please Note: During checkout, include your 4 soap bar choices in the special instructions. Here are the available scent options for our premium all-natural handmade soap bars: Appleberry Cream, African Musk, Bay Rum, Christmas Memories, Citrus Mint, Cucumber Melon, Cedarwood & Sage, Fragrance Free, Fresh Lemon, Frankincense & Myrrh, Frosted Spruce, Gardenia, Gregorian Mist, Grapefruit Orchidia, Georgia Peach, Green Tea, Lilac, Lavender Lace, Lily of the Valley, Lime Vanilla, Magnolia, Mayan Gold, Orange Vanilla, Oatmeal & Honey, Peppermint Patty, Patchouil Rose, Gingered Pumpkin, Raspberry Pulp, Rose Petal, Sage Meadow, Sweet Pea, Spring Rain, Swiss Lavender, Tropical Fruit Slices, Vanilla Berries, Woodland Bay, and Water Lily.
Appleberry Cream



African Musk



Bay Rum



Christmas Memories



Citrus Mint



Cucumber Melon



Cedarwood & Sage



Fragrance Free



Fresh Lemon



Frankincense & Myrrh



Frosted Spruce



Gardenia



Gregorian Mist



Grapefruit Orchidia



Georgia Peach



Green Tea



Lilac



Lavender Lace



Lily of the Valley



Lime Vanilla



Magnolia



Mayan Gold



Orange Vanilla



Oatmeal & Honey



Peppermint Patty



Patchouli Rose



Gingered Pumpkin



Raspberry Pulp



Rose Petal



Sage Meadow



Sweet Pea



Spring Rain



Swiss Lavender



Tropical Fruit Slices



Vanilla Berries



Violet Petals



Woodland Bay



Water Lily


Ingredients
Fragrance and essential oils, shea & cocoa butters, olive, coconut, palm, palm kernel, almond & castor oils: these are the natural ingredients which make our soaps skin-friendly and environment-friendly. In addition, each batch contains a few drops of holy water and a prayer for those who will use our soap. "The work of our hands - made for your hands and body."